Aviation Valley Association official partner of TUSExpo 2016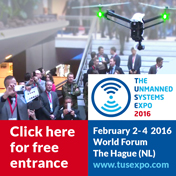 Aviation Valley Association official partner of TUSExpo 2016
Aviation Valley Association is pleased to invite you to join us for The Unmanned Systems Expo (TUSExpo) 2016, taking place 2-4 February 2016 at the World Forum in The Hague, the Netherlands.
Profile
TUSExpo is Europe's leading Unmanned Systems exhibition and conference. TUSExpo is a true industry differentiator focussing on the entire Unmanned Industry. It brings together Unmanned Systems and Robotics that operate in the Air, on the Ground, over Water and in Space. TUSExpo specifically choose this broad coverage because of the many opportunities that can be achieved by the cross pollination between the different branches in the industry.
Truly International event
TUSExpo offers you a strong international audience for networking and maximizing your business opportunities. Almost 60% of participants at TUSExpo 2015 were international. With the further enhanced international partner network for TUSExpo 2016 we expect over 70% international attendants for next edition.
Professional audience
TUSExpo is a B2B only event at a high professional level since more then 75% of our visitors is at management level or higher.
From 2-4 February TUSExpo will once again see European and global companies fromt he entire Unmanned Systems value chain gather and mingle in a professional atmosphere, surrounded by state-of-the-art facilities at the World Forum The Hague.
Member benefits, discounts & possibilities at a glance:
Exhibition
As a member you can book your stand on the main exhibition floor.
Here some of the available discounted options:
Exhibit from as little as EUR 895,- (Expo pod 4 sq.m.)
Pavilion stand, (Turn key stand, 6 sq.m.)
Space only on main floor, 10% discount on sq.m . pricing (min 9 sq.m.)
TUSE Conference
10% discount on TUSE Conference (enter code EEN16)
Click here to register.
Registration to Matchmaking Event
TUSE Commercial presentation area
10% discount on a presentation slot
More information
Interested to take part, please contact:
Quirien Verbakel-Veldman
Senior Consultant International Business
m +31 6 33316363
e quirien.verbakel-veldman@kvk.nl