METASTARS INNOprojects awarded!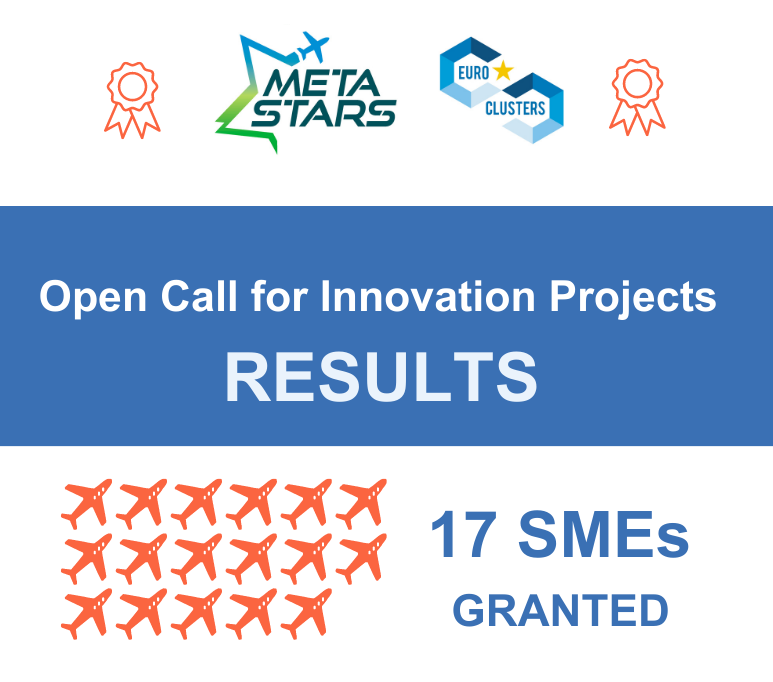 The METASTARS consortium is proud to announce that 53 proposals were submitted in the recently concluded ranking list of the METASTARS INNOprojects Call for Proposals. The level and quality of the presented proposals was very high and the success rate was 20,75% – the funding program reached to  support 11 projects involving 17 SMEs out of the total submitted proposals.
Following the eligibility check and evaluation by experts the Steering Committee presented the following results:
®    for Innovation Projects Low-Risk TRL2-5:
6 proposals over-breaking point (scoring 91,35 points or more) – GRANTED
®    for Innovation Projects High-Risk TRL5-7:
5 proposals over-breaking point (scoring 96,00 points or more) – GRANTED
According to the guidelines of the call co-funded by the European Commission under agreement N°101074337 and the Single Market Programme (SMP) within the call Euroclusters for Europe's recovery, the METASTARS consortium was able to provide funding for 17 SMEs from different sectors: Aeronautics, Space and ICT as well as from variety of destinations: Bulgaria (1), Croatia (1), France (2), Germany (2), Greece (3), Italy (1), Netherlands (2), Poland (2) and Spain (3).    
Congratulations to the winners and all laureates of the call. Thank you for presenting your ideas, and now we are looking forward to successful implementation of the funded projects!